I really love starting my days with a sunrise. It feels very refreshing and appreciative to be able to witness such beauty.
While I was watching the sunrise, our cruise ship was still sailing to the port. It would have been nice if I saw the sunrise in the middle of the sea, so that there were no distractions, but with a sunrise like this, I can't complain. 
I booked a tour to hike Mount Vesuvius and explore ancient Pompeii. I started the tour with the hike up to Mount Vesuvius first because it gets really hot later in the afternoon and there will be a lot more people. Our coach bus drove us half way up the mountain and dropped us off. We then had to finish the hike by ourselves. The hike was all up hill and I literally mean it. The ground wasn't the best at all because it was sand which is hard to grip when it comes to hiking uphill. I've tripped a few times myself because I tried going up fast. I would say this hike is strenuous, but I could do something even more strenuous. It was fairly easy for me keeping in mind that I have a fitness background. Let's just say if you don't train, you will be having a hard time getting up to the top. Once at the top, the trail goes around Mount Vesuvius. It doesn't go the whole circle, but it does go to about 3/4 of the circle. It was a nice hike. I was happy to have gotten some kind of workout on my trip so far.
It was very foggy that day. We weren't able to see our cruise ship from the top.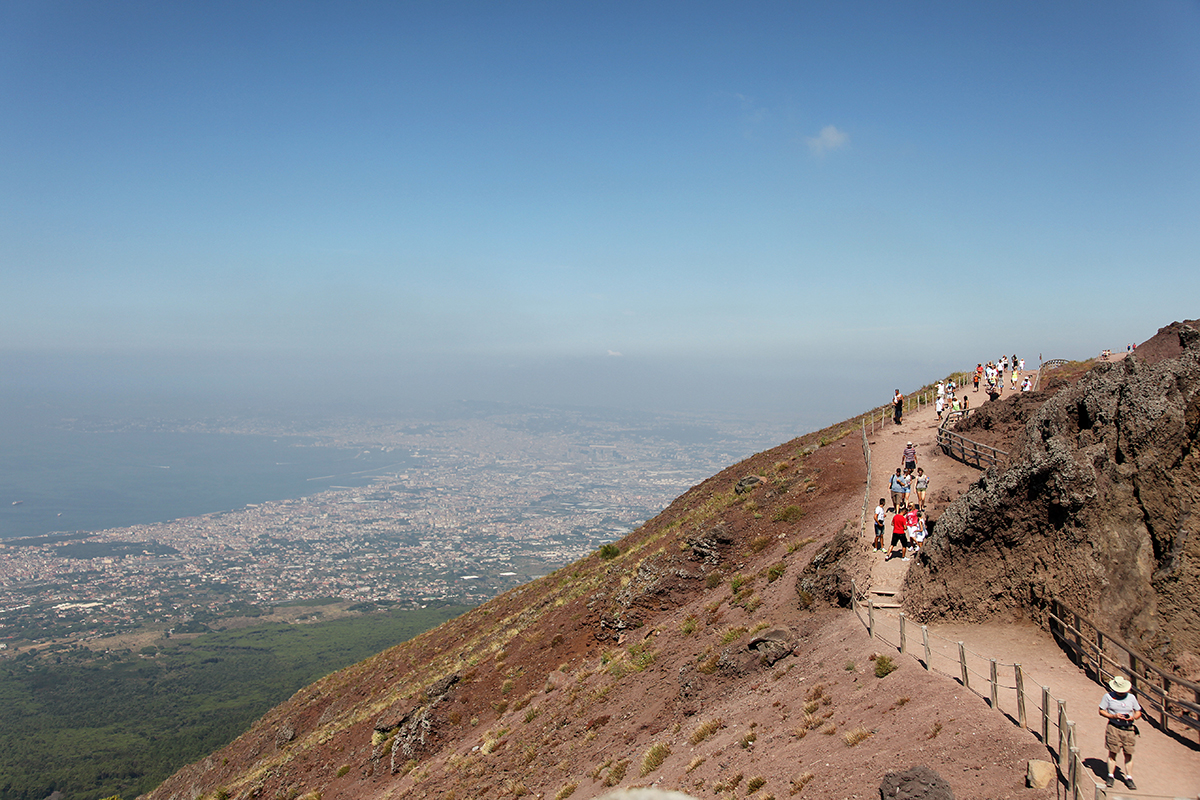 Part of the trail.
This is the trail. As you can see, all sand.
After spending about 2 hours at Mount Vesuvius, we went to the ancient Pompeii. It was really hot, but to be honest, I love the heat. We walked around Pompeii and it was nice to see all the old sites. I liked the floor a lot. When I find marble floors, I sit on them because they were very cool (temperature). I liked the unstable floors because it's challenging to walk on them and that's what I like, challenging. With these types of tours, I always tend to be at the back of the group. I'm the type of person who takes a lot of photographs and there was never enough time! I don't blame my tour guide though, because she was really nice to me 🙂
The floors of ancient Pompeii.
Before we left Pompeii, we had about 10 minutes to walk around to see the booths. I walked into an alcohol store which didn't look like one. There were samples of Limoncello. I tried it, it wasn't bad, just a bit strong. It was nice to be able to try Italian liqueur though.
Fionn is an adventure seeker that is attracted to danger. She is always on a mission to wander around the globe curiously. Whether it will be hiking to the bottom of Grand Canyon, swimming with whale sharks, or finishing the World's Toughest Mudder, she will always be there with her camera(s) in her hands, a smile on her face and butterflies in her stomach. Oh, and did she forget to mention that she is also a foreign Piña Colada drinker?