Colorado Springs is by far my favorite city in Colorado. It is about a 1.5 hour drive South of Denver. There is so much to do and see which makes it a great family getaway and an adventurer's hub.
On top of hiking Manitou Incline, another highlight from my trip to Colorado was reaching the summit of Pikes Peak. Pikes Peak is located in the Rocky Mountains and is also one of the most famous summits in the United States. The summit reaches an altitude of 14,110 ft, also known as a fourteener. There are three popular ways to reach the top. Take the cog railway, drive via Pikes Peak Highway or hike up Barr Trail. I took the Pikes Peak Highway.
Pikes Peak is just… mind-blowing.
While doing my research on Pikes Peak, I was already amazed by how beautiful the pictures were. I absolutely love snow-capped mountains. Coming from a city that is about 150 ft above sea level and flying to a city that is 6,000 ft above sea level is a change. The moment I saw those mountains, I was in awe.
Once we got past the toll gate, that was where the adventure started. The first lookout was just a few minutes drive away from the toll gate and I was already pleased with the view.
While driving up the highway, we came across the famous Big Foot sign. Pretty hilarious. I wanted to see Big Foot, but that will never happen.
As we continued to drive higher and higher, the elevation climbed drastically, the air got thinner and the weather got colder. It was crazy to think that the day before, I was sweating buckets while climbing up Manitou Incline and the next day I was shivering cold. What a difference in climate change!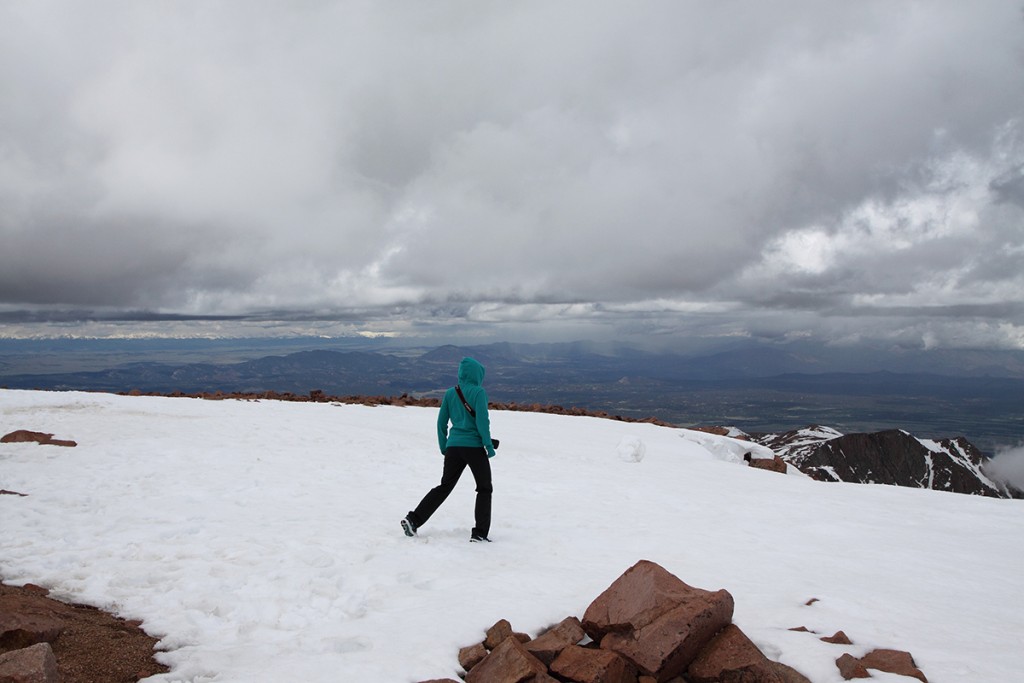 Speaking of the weather, as we got higher and higher, everywhere was covered in snow, except of course the road because they plowed it. It was amazing to see snow in June! It was odd at first, but I am not complaining because I loveee snow. It wasn't just a foot or two, it was almost double my height!
Once we reached the summit—an elevation of 14,110 ft, I was beyond excited. It was a long 19-mile journey to the summit because we kept stopping to take pictures. Even with the bright sun, it was still quite chilly. There was a 40 degree Fahrenheit difference between the base and the top of the mountain. It was 8,000 ft above the city of Colorado Springs. With the thin air, it was really easy to have altitude sickness.
Okay, let's be serious for a second.
If you ever feel nauseous, exhausted and short of oxygen, just sit down and relax. Enjoy the view in front of you. Altitude sickness is a very serious illness and from talking to the locals, not everyone can make it up to the top because the altitude is just way too high for their bodies to adjust. Don't ever feel bad that you can't reach the top, it's okay.
Once we reached the top, we had a very clear view of the city. It was a beautiful day out. We went into the Summit House to pick up some of their world famous donuts. Being a donut person, I was unusually disappointed because the donuts weren't good at all! I expected them to be the best donuts I ever had, but those actually became the worst… which sucks. The ones at Tim Hortons are 10x better. What a bummer!
Even though we drove up to the summit on the same highway, we were still blessed with new views on our way down. Nature is pretty cool. It constantly changes and especially being in the high altitudes, we were a lot closer to the clouds. As soon as the wind picked up, the clouds rolled in at the speed of a roller coaster. Going up and back down took around the same time because we were fortunate to see the clouds roll in and change the entire landscape view and atmosphere. It was a road trip with frequent stops to let the spontaneity take hold.
It was one heck of an unforgettable journey!
Fionn is an adventure seeker that is attracted to danger. She is always on a mission to wander around the globe curiously. Whether it will be hiking to the bottom of Grand Canyon, swimming with whale sharks, or finishing the World's Toughest Mudder, she will always be there with her camera(s) in her hands, a smile on her face and butterflies in her stomach. Oh, and did she forget to mention that she is also a foreign Piña Colada drinker?