As photographers we all come to a point when we try to look for that "perfect bag" that suits our own personalities. For me, I am constantly hunting for the best outdoor adventure photography backpack. It's tough when it needs to have all the elements to it. All my previous backpacks were Lowepro and when I found out that they released a Photo Sport line, I was sold. After watching the product video, I instantly knew that I was going to buy the black Lowepro Photo Sport 200AW. I bought the black one a few years ago and it traveled across the world with me. I loved the photo sport line so much that I went to get an orange one a few weeks ago.
Specifications:
Internal Dimensions: 19.5 x 9 x 23 cm
External Dimensions: 27 x 17 x 49 cm
Top Compartment: 22.5 x 10.5 x 20.5 cm
Weight: 1.3 kg
What I like about this bag is that it can fit a lot of stuff inside. I'm not referring specifically to photo gear, I'm talking about clothes, water, and food. This bag will definitely help you survive a day of hiking. As an adventure photographer, it is important to have a bag that focuses on carrying my necessities and not my photo gear. To be honest, I don't carry a tripod with me during my hikes unless I know I am hiking to a waterfall. A tripod will add too much weight and during longer hikes, it can be brutal. Your traps will be in so much pain.
This bag allows you to carry a tripod if you need to. If you're in a situation where you need to carry water and a tripod; you can always put the water inside the bag. It is big enough to fit many bottles.
This is what the photo gear compartment looks like. The space is not the biggest, but it definitely is enough for hiking. The camera is equipped with a 17-40mm lens and on the side, it is a 24-70mm lens.
There is also a padding that you can put down for more protection and cover. I don't use it because I like to get access to my camera quickly.
This bag will also fit a 13 inch laptop. With this feature, I made this my travel backpack because it fitted everything that I needed to bring.
When you don't need to carry a laptop, you can put a reservoir in there. The tube will come out from where the H2O sign is.
There is also another pocket at the top and is easily accessible. I usually put my phone and batteries in that pocket because I can reach it without having to take my backpack off.
The inside of the backpack has a string for you to tighten and loosen. You can put lots of clothes in there.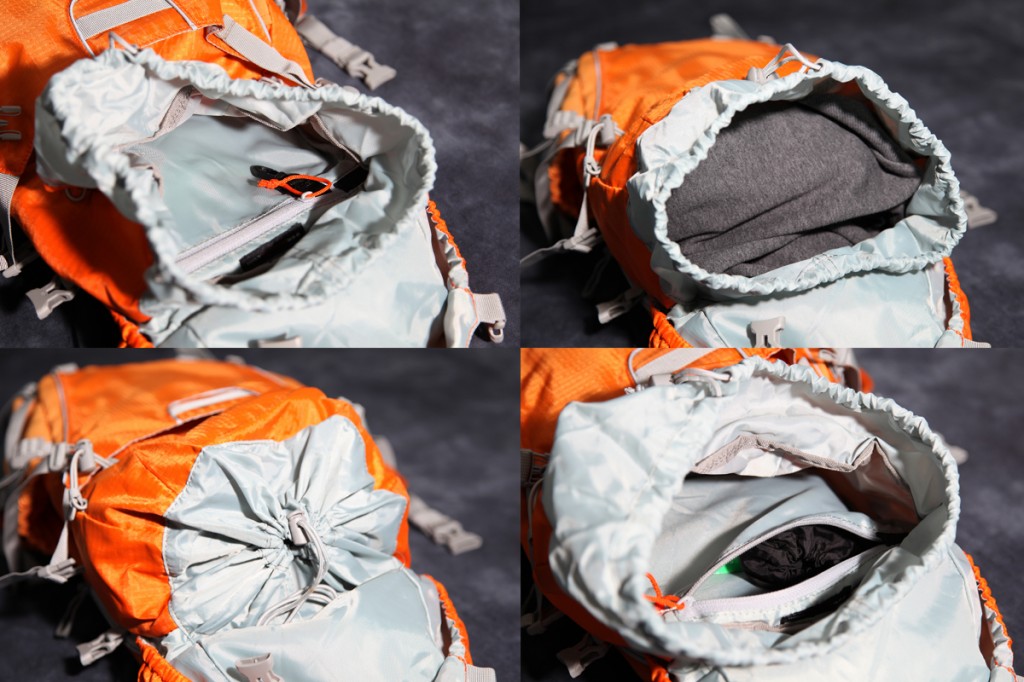 When you loosen the string, you will see another zipper. That pocket is where I store my treasures. All the important stuff goes in there.
I put my hoodie in there to show you that it will fit even when you tighten the string.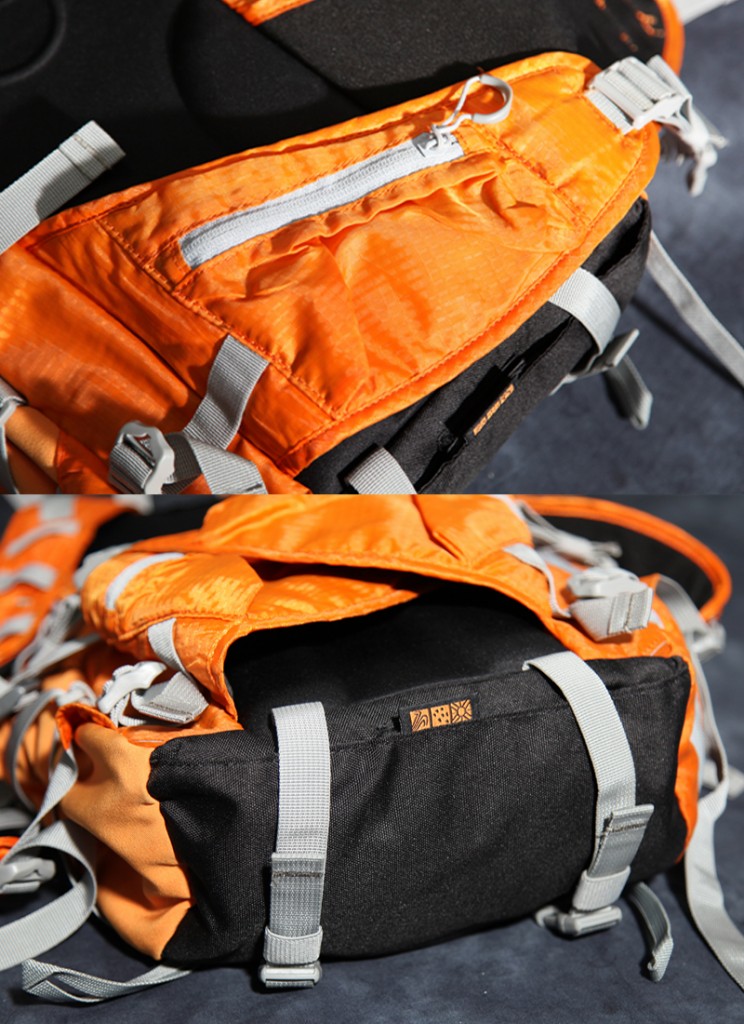 When you wear the backpack, there is a waist-belt. On both sides there are small pockets as well. Pockets are great to store things in an organize way.
The bottom of the bag can also be used to carry clothes, sleeping bag, yoga mat, etc.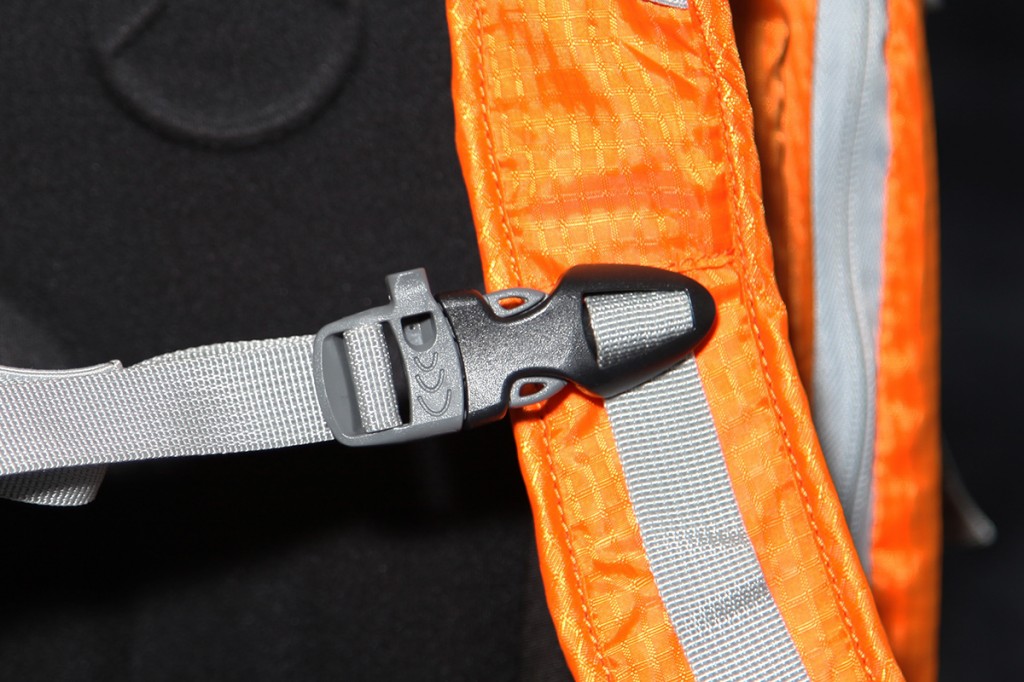 The last feature that I absolutely love is the whistle on the chest belt. To be honest, I didn't know this bag had a built-in whistle until maybe… a year later. I discovered the whistle when I was on a tour bus in Asia because I had my bag on my lap. I was so amazed that I immediately "tested" it. Can you guess what happened after?
Well…
I got into lots of trouble.
I was pretty sure I woke everyone up from their afternoon nap and probably scared them too. You know when you see eyes as big as a golf ball? Yeah, I saw so many of those. Sorry adults! This is what happens when you have a person who can't sit still and will try to entertain herself in hope that time will go by faster.
This bag is AMAZING as you can tell since I now have two. Who knows, if another color comes out, I might get that one as well. Or, maybe it is time to try something different because I certainly don't want to get in trouble for blowing a whistle inside a tour bus again.
Fionn is an adventure seeker that is attracted to danger. She is always on a mission to wander around the globe curiously. Whether it will be hiking to the bottom of Grand Canyon, swimming with whale sharks, or finishing the World's Toughest Mudder, she will always be there with her camera(s) in her hands, a smile on her face and butterflies in her stomach. Oh, and did she forget to mention that she is also a foreign Piña Colada drinker?